2023 Audi e-tron® GT
Innovative design. Electrifying performance.
The new Audi electric vehicle lineup -- a family of sedans, wagons and SUVs that all share the e-tron® moniker -- has taken the automotive world by storm. Leading this vanguard of new Audi EVs is the unmistakable new 2023 Audi e-tron® GT.
This impossibly long, low and wide new Audi EV is no wolf in sheep's clothing -- it's a wolf in a tuxedo. Underneath its alluring bodywork is a cutting-edge, zero-emissions powertrain delivering performance on par with many dedicated supercars. Quite literally, it silently thrills and delights with every new set of backroad corners and hairpin onramps. There truly is no new EV in Ohio that can match the charisma, performance or elegance of the Audi e-tron® GT.
If you're ready to reserve an e-tron® GT nearby, please visit our Audi dealer in Dublin. We can't wait to share just how shockingly good this new electric luxury sedan really is.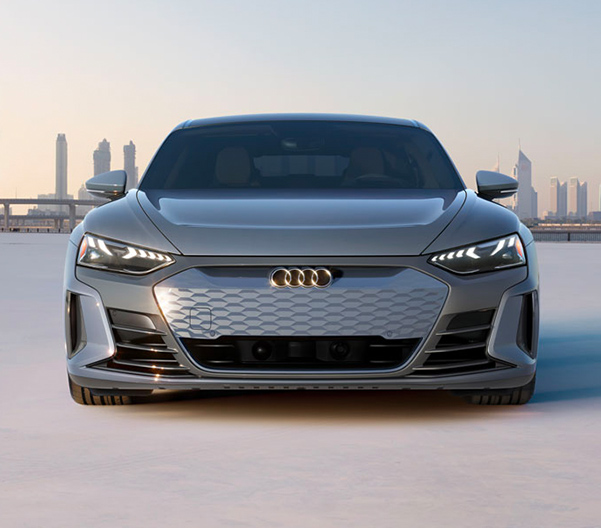 2023 Audi e-tron® GT Specs & Range
The wow factor of the 2023 Audi e-tron® GT begins with its performance. With boost engaged, a pair of electric motors delivers up to 522 horsepower, which translates to a 0-60 mph time of just 3.9 seconds. The e-tron® GT top speed? A remarkable 152 mph.
As for road trips, you'll have no issue traversing Ohio in a new e-tron® GT: range is 238 miles on a full charge. And thanks to its 800V electrical architecture and 270 kW max charging output, you can bring the 99.3 kWh battery from 5-80% capacity in as little as 23 minutes. Specs like this underscore why so many drivers are choosing to reserve a new Audi e-tron® GT in Dublin -- other EVs for sale nearby simply can't compete.
2023 Audi e-tron® GT Interior Features
The e-tron® GT interior is just as impressive as the mechanical hardware. Top-quality trimmings abound within the cabin, and you'll find that the Audi e-tron® GT features the latest in connectivity equipment. The MMI Navigation Plus system will handle your infotainment needs, while amenities like heated front seats and three-zone climate control ensure total comfort is always at your fingertips.
Other available Audi e-tron® GT interior features include:
Wireless Charging Pad
Bang & Olufsen® Sound System w/ 3D Sound
Panoramic fixed glass roof
Audi pre-sense® front
Parking system plus
Audi connect PLUS
Reserve a 2023 Audi e-tron® GT Near Me
The Audi e-tron® GT specs are concrete proof of what your intuition has been telling you: that this is an unparalleled new electric car in Ohio. When you drive a new e-tron® GT in Dublin, you will turn heads and prompt questions -- this showstopping Audi EV has that kind of curbside presence.
If you're ready to take one home for yourself, contact contact Audi Dublin. We can't wait to get you behind the wheel of the new EV Ohio fans can't stop talking about.