2019 Audi A7 and Mercedes-Benz CLS450 Face Off in a Luxury-Pseudo-Coupe Battle
These two four-doors are hellbent on proving they're more than a pair of pretty faces.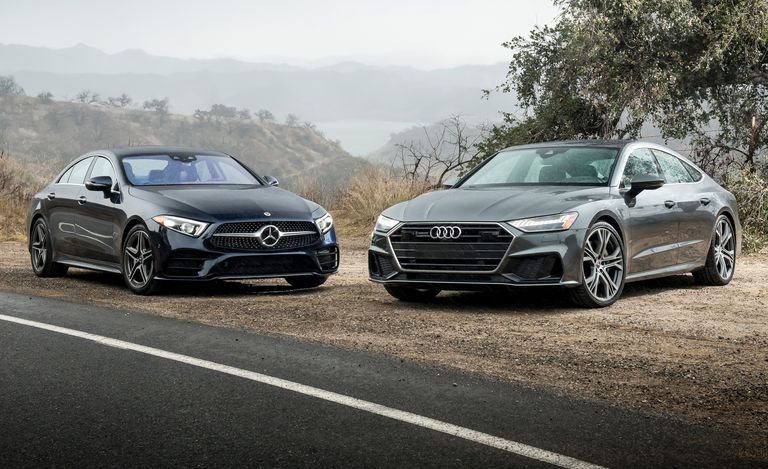 - Photo by Car and Driver | James Lipman
Light rain is to Southern California what a hurricane is to Florida or a blizzard is to upstate New York. Highways close, semis jackknife, mountains slide away as mud, and houses of worship fill with those seeking God's mercy. It's not the end of civilization, but it's close.
Into this apocalyptic nightmare we drove the new-for-2019 Audi A7 and Mercedes-Benz CLS450 4MATIC, boldly risking nature's wrath to discover which of these squished-roof four-doors would best overcome it all with grace and confidence. And which may be good enough to thrive in a world gone mad for crossovers and SUVs.
Our route took us through Ventura, Santa Barbara, and San Luis Obispo counties along the superlative State Routes 33, 166, and 58, with a quick blitz to the Mojave Desert for instrumented testing. That's two days of driving on roads sloppy with modest rain and some-gasp!-wispy snow. But these are all-wheel-drive sorta-sedans built in Germany, where winter weather is, you know, actually wintry. Despite the cars' summer tires, these were ideal conditions in which to evaluate this pair. And by the time we reached our testing venue, it had dried out enough to complete valid trials. Perfect.
Click here to view the rest of the article.